Stress management Package:
Short and power packed program for one day for those of you who are stressed out due to heavy work schedules, meeting deadlines, long hours in work load. The package includes:
Consultation with our expert Ayurvedic doctor
Ayurveda body massage with traditional Ayurvedic oils
Herbal steam bath
Shirodhara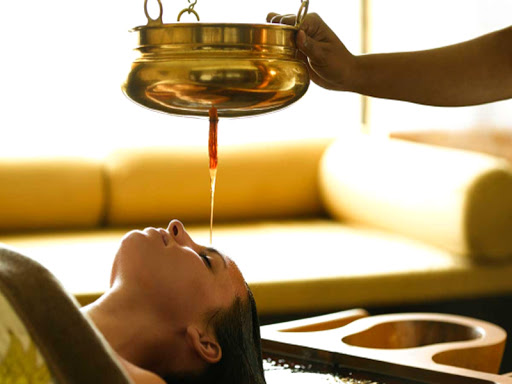 Purification therapy (Shodhana chikitsa):
Our food habits, daily routines, climatic variations etc can cause the accumulation of toxins inside the body that can lead to the imbalance of the tridoshas. This Package Help In purifying the whole body to attain proper balance of tridoshas. This therapy includes –
Consultation with our expert Ayurvedic physician
Constitution analysis
Ayurveda body massage using medicated oils as per traditional Ayurvedic procedures.
Herbal steam bath
Shirodhara
Ghritpaan & Virechanam
Netra Trapana
Basti (medicated enema)
Nasyam
Karnapoornam
Ayurveda Herbs
Ayurvedic Lifestyle & Nutrition Consultation
Natural Weight loss (Slimming Program) Therapy:
We have a special slimming program, a very special Ayurvedic diet is advised during the treatment period.
Consultation with an expert Ayurvedic physician
Constitution analysis
Udvartanam using special herbal powder as per traditional Ayurvedic procedures.
Herbal steam bath
Basti (medicated enema)
Ayurveda Herbs
Ayurvedic Lifestyle & Nutrition Consultation
Longevity therapy & Immunity promotion (Kayakalp Chikitsa):
This is the prime treatment in Ayurveda for reducing ageing processes, arresting the degeneration of the body cells and increasing the immunity of the body. This include
Consultation with an expert Ayurvedic physician
Constitution analysis
Ayurveda body massage using medicated oils as per traditional Ayurvedic procedures.
Herbal steam bath
Shirodhara
Ghritpaan & Virechanam
Nasyam
Netra Trapana
Karnapoornam
Ayurvedic Rasayana herbs
Ayurvedic Lifestyle & Nutrition Consultation
Frequent Traveler's Package :
Package for the frequent travelers, to relieve the tiredness, weariness, fatigue, the stress and strain caused while and after traveling. This package includes –
Free consultation with an expert Ayurvedic physician
Ayurveda body massage using medicated oils as per traditional Ayurvedic procedures
Herbal steam bath
Shirodhara
Rejuvenation Package (Rasayana Chikitsa):
It is necessary to rejuvenate the body systems for a better harmony of the Body and Soul. This Includes
consultation with our Ayurvedic doctor
Ayurveda body massage using medicated oils as per traditional Ayurvedic procedures.
Herbal steam bath
Shirodhara
Netra Trapana
Ayurvedic Lifestyle & Nutrition Consultation
| Special Packages | Duration ( in minute) |
| --- | --- |
| Abhyangam, Shirodhara, Mukhalepam | 180 |
| Holistic Body Spa (Tanalepam) , Reflexology | 90 |
| Abhyangam, Shirodhara | 80 |
| Abhyangam, Shirodhara, Foot spa | 120 |
| Abhyangam, Shirodhara | 120 |
| Abhyangam, Mukhalepam , Reflexology | 100 |
| Abhyangam, Potali and Hot Towel Sponge | 60 |
| Foot spa with Reflexology | 45 |